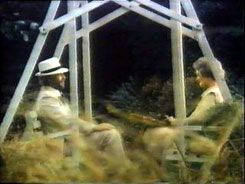 12. Touch of Madness
Written by Halsted Welles
Starring: Geraldine Page, Rip Torn, Lyn Loring
Also starring: Richard Angarola, Stacy Harris, Jan Clayton, George Wallace, Michael Bell
Song "Golden Memories" by Ian Jack

After her mother's death, a woman inherits a house still occupied by two people...and the sins of their past. Very strong cast highlight this tale which bring back images of pulp magazines and penny dreadfuls. Loring dosen't go overboard until just the right time. Page and Torn are perfect as the befuddled older couple that aren't as befuddled as you might think.

[The address of the house is Arethusa 215: Arethusa was a nymph who was turned into a water spring. Far fetched theory: The 215 may refer to the college class number the writer took to learn classical mythology.]

["Matthew, Mark, Luke, and John, harness the horse and all got on..."

Here are two more variations on the nursery rhyme....

"Matthew, Mark, Luke, and John, Hold my horse till I leap on, Hold him steady, hold him sure, And I'll get over the misty moor. "

"Matthew, Mark, Luke, and John, Bless the bed that I lie on. Four corners to my bed, Four angels round my head; One to watch and one to pray And two to bear my soul away."

This last rhyme somewhat matches up with the circumstances of the story if you stretch it far enough.]

[Stilton - A form of unpasteurised blu veined cheese. There was an interesting comment in an episode of To The Manor Born where the lord of the manor told another man that he shouldn't be dipping his stilton in port. (Port is wine that has brandy added to it before it's fully fermented.) The man exclaimed that he has always done, as did his father, etc., etc... There are two reasons that I could find for not doing this. 1) There are rare cases of listeria monocytogenes (a potentially deadly bacteria) causing infections and even miscarriages and stillbirths in pregnant women. And 2) It's mentioned that if you have a hangover you're not suppose to eat stilton. Since a hangover is caused by dehydration, the body may absorb the harmful bacteria faster than normal.]

Halsted Welles: Also wrote for Suspense, Alfred Hitchcock Presents and Night Gallery

Geraldine Page: Appeared in three episodes of Night Gallery and an episode of The Hitchhiker.

Rip Torn: Did two episodes of Alfred Hitchcock Presents and an episodeof Thriller. Was narrator of the 1977 Ghost Stories series. But probably is best known as Zed in the Men In Black movies.

Lynn Loring: Was in three episodes of The Alfred Hitchcock Hour.

Richard Angarola: Was in The Twilight Zone (1959) episode "The Miniature".

Stacy Harris: Appeared in two episodes of Alfred Hitchcock Presents/Hour. And was uncredited as the voice of Police Unit F-7 in It's a Mad Mad Mad Mad World.

George Wallace: Also did an episode of Monsters and appeared with Rip Torn in the movie Defending Your Life.

Michael Bell: Geeze, this guy has been in tons and tons of stuff. He's one of those character actors you see all the time but never know his name. Nowadays most people would probably remember him as Groppler Zorn from the pilot episode of Star Trek: The Next Generation. Or you may remember him from his countless voiceovers in various cartoon series including The Jetsons. But we all remember him for this role and for his appearance in an episode of Night Gallery, right?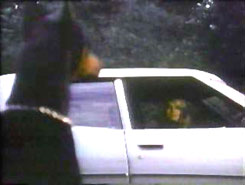 13. Creature of the Canyon
Written by Del Reisman
Starring: Angie Dickinson, John Ireland, Madlyn Rhue
Also starring: Mary Murphy, Robert Donner
A woman buries her husband only to discover that her old dog may be intent on burying her. I don't know. This episodes kind of ties with "Cry of the Cat" for the worst episode of the series. Everyone seems to be going through the motions. No real surprises except when she's attacked while in her car. Cinematography of that scene alone moved it up a notch. The ending kind of made me wonder what happened to The Thin Man.

Del Reisman: Was also associate producer of The Twilight Zone (1959)
Angie Dickinson: Appeared in two episodes of Alfred Hitchcock Hour. She also appeared in The Norliss Tapes and the Wild Palms mini-series.
John Ireland: He can also be seen in an episode of Alfred Hitchcock Presents (1955) as well as being the dubbing editor of the pilot Baffled!
Madlyn Rhue: Was in an episode of The Alfred Hitchcock Hour and Kolchak: The Night Stalker.
Mary Murphy: Can also be seen in an episode of Alfred Hitchcock Presents and The Outer Limits.
Robert Donner: One of the few character actors that have had more than one classic television role. In his case, Yancy Tucker on The Waltons and Exidor from Mork & Mindy.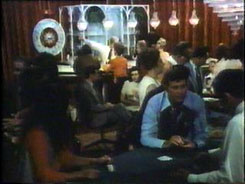 14. Time of Terror
Teleplay by Jimmy Sangster
Based upon the Story "Traveling Companions" by Elizabeth Walter
Starring: Patricia Neal, Craig Stevens, Alice Ghostley
Also starring: Elliott Montgomery, Doug Henderson, Mark Tapscott, Frank Whiteman, Bruce Kimmel, Lynn Hamilton, Robert P. Lieb, Maggie Malooly, Mel Gallagher, Nelson D. Cuevas, Tony Ballen, Ondine Vaughn, Jannis Jurkin, Betty Ann Carr, Merritt Smith, Dorothy Meyer
A woman visiting a casino hotel can't find her husband. It seems he checked out...without her. This is a great story. It's easy to figure out what's going on but who cares. Neal is great as the distraut wife desperately trying to find her husband. Has the largest credited cast of any episode.
[GOOF: The caller doesn't put the balls in the correct holes after calling them. I know, I'm a veteran bingo player and he's not even close.]

Jimmy Sangster: Wrote an episode of Kolchak: The Night Stalker
Elizabeth Walter: Wrote the episode of Night Gallery called "A Fear Of Spiders"
Patricia Neal: Also appeared in the truly creepy movie Ghost Story. But everyone cherishes her for her performance as Olivia Walton in The Homecoming: A Christmas Story
Craig Stevens: Was in Alfred Hitchcock Presents (1955) episode "The Deadly"
Alice Ghostley: Yet another actor who has been able to bridge the gap between series and give truly unique performances. From Esmeralda on Bewitched to Bernice Clifton on Designing Woman, no one plays ditsy like Ghostley. She also appeared in an episode of Kolchak: The Night Stalker and the Tales From The Darkside episode "Anniversary Dinner"
Doug Henderson: Appeared in an episode of The Alfred Hitchcock Hour, two episodes of Science Fiction Theater and three from The Outer Limits (1963). Was also uncredited as a staff sergent in War Of The Worlds
Mark Tapscott: Was in an episode of The Twilight Zone (1959)
Frank Whiteman: Also was in the cult classic I Dismember Mama
Bruce Kimmel: He has also written, directed, and composed for several films.
Lynn Hamilton: Probably most famous for playing Verdie Foster on The Waltons.
Robert P. Lieb: Appeared in an episode of The Twilight Zone (1959) as well as the cult movies Myra Breckinridge and Hangar 18.
Betty Ann Carr: Also appeared with Lieb in Hangar 18.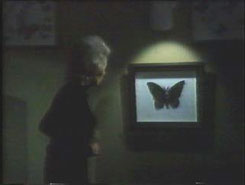 (Show now called Circle of Fear)
15. Death's Head
Written by Rick Blum
Starring: Janet Leigh, Rory Calhoun, Gene Nelson
Also starring: Doreen Lang, Ayn Ruymen, Joshua Bryant, Madeleine Taylor Holmes
A man's fascination with bugs bugs his wife. So she bugs him...to death. Leigh gets in the water and lives! Go figure. Chalk one up for those who believe that the punishment should fit the crime. (Not positive, but the interior Bewitched set may have been used yet again in this episode.)
Rick Blum: Liked how he wrote the episode? Then buy his book.
Janet Leigh: Did an episode of The Twilight Zone (1985), gave an excellent performance in Columbo: Forgotten Lady, appeared in the uber-creepy The Fog...oh yeah, also appeared in a little movie called Psycho.
Rory Calhoun: Appeared in an episode of Alfred Hitchcock Presents (1985) and Tales From The Crypt. A lot of cult movie fans will remember him as Farmer Vincent in Motel Hell. Interesting enough, he also appeared with Janet Leigh in Night Of The Lepus.
Gene Nelson: Was in the excellent movie The Letters and an episode of the original Star Trek series.
Doreen Lang: Appeared in an episode of Alfred Hitchcock Presents. And like Janet Leiah, appeared in a Hitchcock movie, The Birds.
Joshua Bryant: Can be seen in a Night Gallery episode at the television movie Salem's Lot.
Madeleine Taylor Holmes: Was in the cult classic Pumpkinhead