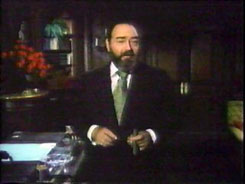 A lot of people seem to remember episodes of this series but can't remember the name. Which is too bad since this is one of the rare gems of the 1970's. How could a series produced by William Castle and developed by Richard Matheson go wrong?
The pilot and first season was hosted by Sebastian Cabbot. (Most people remember him from Family Affair)
As for the second season...Cabbot was no longer host and the series name changed to Circle of Fear. Many would say such major changes in a fledgling series wouldn't bode well. But interestingly enough, many of the better stories were broadcasted during the second season.
But alas, for some reason it was canceled. Was it the ratings? Budget? Creative control? Who knows. It seems that any 1970's science fiction/horror series which wasn't geared toward younger viewers weren't given much of a chance. (Obviously, times haven't changed.)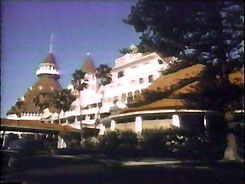 William Castle Productions
Developed for Television: Richard Matheson
Theme by Bill Goldenberg
Produced by Joel Rogosin
Casting Executive: Renee Valente
Unit Production Manager: James H. Brown
Assistant to the Exec. Producer: Rick Blum
Art Directors: Ross Bellah & Cary Odell
Casting: Shelley Ellison
Make-up Supervision: Ben Lane
Special Effects: Phil Cory
Production Coordinator: Louis H. Goldstein
Music & Sound Effects: Sunset Editorial
Opiticals by: Photo Effex
Filmed at The Burbank Studios
[The above are for all episodes. Do not have complete credits for the Pilot or Episode #18]
Directed by John Llewellyn Moxey (1) Paul Stanley (2, 18), Richard Donner (3), Don McDougall (4, 10, 20, 22), Walter Doniger (5, 13), Leo Penn (6), David Lowell Rich (7), Les Martinson (8), Daryl Duke (9, 18), Arnold Laven (10), Robert Day (11, 14), James Neilson (15), Herschel Daugherty (16), Alex Singer (17), Charles Dubin (21), James H. Brown (23)
Story Consultants: Mark Weingart (2-15), Jimmy Sangster (2-23), Seeleg Lester (16-23)
Music by Billy Goldenberg (2, 5-17, 19-23) and Robert Prince (3-8, 10-15, 17, 19-23)
Director of Photography: Emmett Bergholz (5,8-17, 19-23), Bill Butler (2-4, 6,7)
Film Editor: Frederic Baratta, A.C.E. (2, 5,9, 12, 15, 16, 19, 22), David Wages, A.C.E. (4, 6, 10, 11, 17, 21), John Sheets, A.C.E. (3, 7,8, 13, 14, 20, 23)
Assistant Director: John Anderson, Jr. (5-7, 10, 12, 14, 16, 17, 19, 21, 23), Jack P. Cunningham (2-4, 8, 9, 11, 13, 15), Murray Schwartz (20, 22)
Set Decorator: Joanne Mac Dougall (2-11), Stuart Reiss (12-14, 17), Ralph Sylos (13, 17), Robert Signorelli (15, 16, 19-23)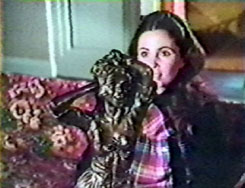 01. Pilot - The New House
(only broadcasted as half of the movie Double Play)
Written by: Richard Matheson
Starring: Barbara Parkins, David Birney, Jeanette Nolan
Special Guest Star: Sam Jaffe
A woman wonders if it was a good idea to move into a house built where gallows used to sit. Not as chilling as some would like but still well done with an ending that's reminiscent of fingers on a blackboard. Parkins is perfectly cast as the whining wife. Strange though that the haunting starts after she buys a statue which looks like the ghost in question. Yet, for some reason, she doesn't even consider getting rid of it.
Richard Matheson: You may not know his name but positively you know his stories. Some of what he has written includes sixteen episodes from the original Twilight Zone, an episode of Night Gallery, the Kolchack The Night Stalker pilots, and the classic television movie Trilogy of Terror. One of my favorite short stories of his is "Button, Button" from Twilight Zone (1985).
Barbara Parkins: Played another Eileen in an episode of Hotel (Obviously not Mansfield House). She also appeared in the excellent anthology film Asylum.
David Birney: Appeared in the Quinn Martin's Tales of the Unexpected, Twilight Zone (1985), and Ray Bradbury Theatre.
Jeanette Nolan: She sure hit the ole anthology jackpot. Her resume includes five episodes of Alfred Hitchcock Presents/Hour, two episodes of Thriller, two episodes of Twilight Zone, and two episodes of Night Gallery. And on top of all of this she was the uncredited voice of Norma Bates in Psycho.
Sam Jaffe: Appeared in two episodes of Alfred Hitchcock Presents, an episode of Night Gallery, and the excellent story Columbo: Forgotten Lady.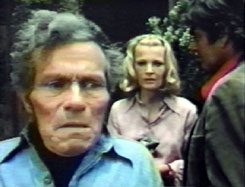 03. The Concrete Captain
Teleplay by Jimmy Sangster
Based Upon the Story by Elizabeth Walter
Starring: Stuart Whitman
Special Guest Star: Gena Rowlands
Also Starring: Walter Burke, Eugenia Stewart, Glenn Wilder, Lloyd Gough
A couple celebrating their anniversary find themselves drawn into a nautical legend. If there's anyone who can spin a creepy tale verbally it's veteran actor Walter Burke. Unfortunately he gets far less air time then the stars. Whitman and Rowlands both have been in better stuff. This story just seemed a little too soft to be scary.
Jimmy Sangster: Wrote an episode of Kolchak: The Night Stalker.
Elizabeth Walter : Wrote a story for Night Gallery.
Stuard Whitman: Appeared in an episode of Ellery Queen, Tales from the Darkside, Tales of the Unexpected and two episodes of Night Gallery. Also appeared in the movies Ruby and The Monster Club as well as being Jonathan Kent on the 1988 Superboy series.
Gena Rowlands: Appeared in four episodes of Alfred Hitchcock Presents/Hour.
Walter Burke: Appeared in an episode of The Twilight Zone (1959) and Night Gallery as well as two episodes each of Thriller and The Outer Limits (1963).
Lloyd Gough: Appeared in an episode of the The Outer Limits (1963).