This is a listing of those people which have influenced not only my own views but many others. You notice how many favorite male and female actor lists always include the same name? Well, not here. Here you'll see names which I believe are many times overlooked or just forgotten. I think a lot of these listings will surprise you.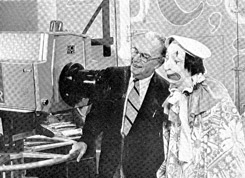 Dr. Max and Mombo - Locally shown on WMT- TV in Cedar Rapids, Iowa, this afternoon kids show never talked down to their audience. (I think under Mombo's makeup was famed baseball clown Fred Petrick who during one show did his classic "Casey At Bat".) One could venture to say that childrens programs like this were the first anthology series many of us probably saw. On one show, a man claimed to be able to rhyme any word. Dr. Max said, "Orange." The guest replied, "Scrorange...Yep, it's a word." While being distracted by the kids in attendance, the host looked into the camera, shook his head back and forth and mouthed the words, "No it's not." Proof that not even for a minute was Dr. Max going to let someone lie to his audience. At the end of each show came the immortal words, "Take it easy, play safe, be careful."
Colm Feore
Friday the 13th: The Series "The Maestro" , "Mightier Than The Sword"
Titus

----------

Jessica Harper

Tales FromThe Darkside "The Tear Collector"

Tales From The Crypt "My Brother's Keeper"

Phantom Of The Paradise

Shock Treatment

My Favorite Year

Susperia

----------

Frances Sternhagen
Won Tony Award for The Heiress

Tales From The Crypt "None But The Lonely Heart"
The Outer Limits "The Choice"

Outland
Golden Years

----------

Ray Walston

Suspense "The Iron Cop"
Friday the 13'th The Series "Tales of the Undead"

My Favorite Martian
Fast Times at Ridgemont High "Mr. Hand."
Star Trek "Boothby"

Institute For Revenge


Amazing Stories "fireside storyteller

Popcorn

Additional voices for the Smurfs

-----

Alberta Wilson

The Hitchhiker episode "Remembering Melody"

The Outer Limits (1995) "If These Walls Could Talk"

The Keep

----------



Zuni Doll

Someone actually made a text game based on this story i n Z-code.